European Championships start on Saturday
22 November 2013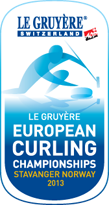 Tomorrow sees the start of the 2013 European Championships. These are being held in Stavanger and Scotland are represented by our two Olympic teams.
David Murdoch and his team of Tom Brewster, Greg Drummond, Scott Andrews and Michael Goodfellow play two games on Saturday, against Denmark and Russia.
The Ladies team of Eve Muirhead, Anna Sloan,Vicki Adams and Claire Hamilton play Russia in their first game.
Games will be broadcast on Eurosport and full details can be found here in the Event Website
Back to news <