Keith Prentice wins Scottish Senior Championships
10 February 2014
Keith Prentice and his team of Lockhart Steele, Robert Anderson and Tommy Fleming won the Seniors yesterday at Hamilton, beating Graeme Adam's rink 7-2 in the final.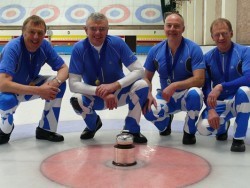 After some early sparring the third end proved crucial, with Keith playing an excellent take out to lie three shots.  After that, they controlled the game well and eventually shook hands after 7 ends.  They now go forward to represent Scotland in the World Seniors Championships in Dumfries.
The Ladies Championship was won by Christine Cannon's team of Margaret Richardson, Isobel Hannen and Janet Lindsay. They beat the Isobel Waddell's team of Jackie Craig, Dor Moran and Liz Horton by 6 shots to 2.
Back to news <