Pop Up Night A Great Success
24 January 2014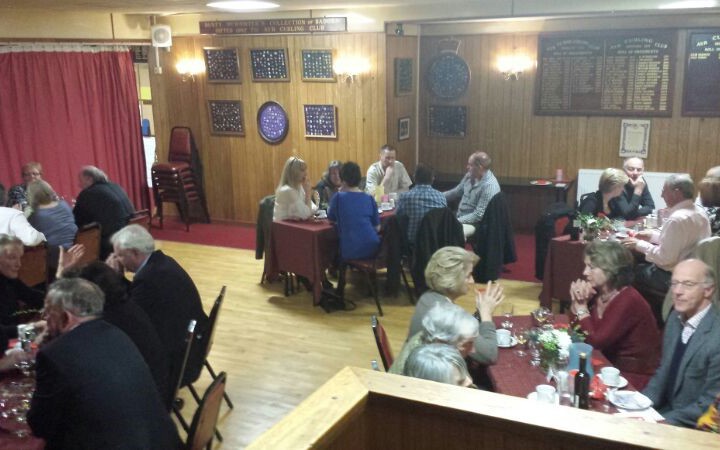 Hazel and Steven were delighted with the response to their new "Pop Up Restaurant" idea.  But even more delighted were the 30 curlers who took advantage of the fine dining night at Ayr Ice Rink.
Hazel says
"We first advertised it on the night of the Christmas party and were looking to get a minimum off 20 people in order to make it work (maximum of 36 due to the complexity of the menu).
 We got 30 people on the night and will hopefully, because of it's success, run another evening – same idea, different menu – towards the end  of the season.
If anyone is interested they can email us and go on the waiting list although our dinners on the night have asked for priority booking next time we do it!"
Picture of the evening can be found by clicking on the Gallery tab above.
If anyone is interested the menu and accompanying wines last Friday were as follows:
                                                                                                          MENU
Seared west coast scallop, Stornoway black pudding, orange, crispy pancetta, micro herb salad
Ailala Ribeiros Do Avia, Treixadura, 2012
Pale gold in colour.  There are clean, powerful aromatics on the nose with apricot, white flowers and a sort of saline, sea-shell undertone.  Spices such as clove, mint and fennel are also present.  The palate displays sweet lemon and ripe melon with plenty of zing and grapefruit peel.  A wine of great complexity and style and bags of character.
(Grape: 100% treixadura)
Roast wood  pigeon, pearl barley risotto, marscapone, grated truffle, burgundy jus
Domaine Agnes Dewe, Mercurey, 2009
The wine features a near-transparent hue, with good intensity and a deep garnet red tint. Its powerful and complex bouquet exudes fragrances of well-ripened berries and black fruits. Notes of cherry and morello cherry are also easily detected. This Mercurey also gives off a very pleasant and balanced woody aroma. A mellow taste, quite elegant and subtle. The scents associated with the nose remain intact on the palate. The tannins are noticeable but well incorporated into the body of the wine.
(Grape: pinot noir)
Shellfish bisque, butterbread crouton, rouille, lobster bonbon
Umani Ronchi, Plenio Verdicchio Classico Riserva, 2008
Pale straw yellow in colour with golden hues. The bouquet is round, soft, fresh, with hints of vanilla and ripe fruits. On the palate, the wine is velvety, soft, rich and harmonious, with a characteristic hint of citrus rind on the finish.
(Grape: 100% verdicchio)
Pan fried fillet of Ayrshire beef, oxtail ravioli, potato rosti, creamed celeriac buttered spinach, shallot and madeira gravy
The Colonial Estate, Explorateur Shiraz,2010
Aromas of plum, blueberry and blackcurrant are typical of the Shiraz grape when it is cultivated in South Australia, with hints of toasted cedar and chocolate indicative of the influence of French oak and time in bottle. Full bodied and really quite rich in the mouth, this "Explorateur" Shiraz is densely fruity initially, before a chewy tannin structure reveals itself from the mid-palate. Initially supporting the blueberry, plum and blackcurrant fruit notes of the nose, this structure sits behind flavours of liquorice, clove spice, just roasted coffee and a hint of vanilla as the palate develops.
Trio of citrus trees
Meyer lemon tree cheesecake, kaffir lime shot glass, blood orange tree sorbet with a raspberry tuille
Fondo Antico, Baccadoro Passito IG T NV
A delicious, sweet combination of almonds, cookies, dried figs and candied oranges. Intense, but with great freshness
(Grape: Grillo)
Wines supplied by The Fine Wine Company based in Edinburgh and available online.
Back to news <