RES Corporate Day
19 November 2013
On Friday 15th November Ayr Ice Rink hosted a highly successful Corporate Day for Renewable Energy Systems Ltd (RES) an important sponsor of curling at Ayr Ice Rink. RES is one of the world's leading renewal energy developers and seeks to develop, construct and operate projects that contribute to the goal of a sustainable future. The company is active across Ayrshire with several active energy projects and others at the planning stage.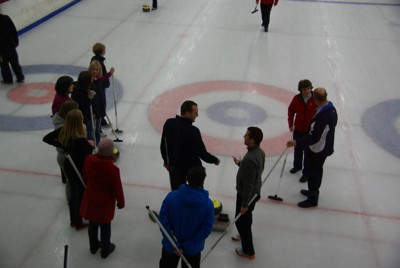 The Corporate Day comprised an in-house training session for the RES personnel in the morning followed by lunch and an afternoon's curling. 27 members of staff from the Glasgow office of RES attended the morning training session with 23 taking to the ice for the afternoon's curling. The curling session was led by a team of Ayr Curling Club coaches and helpers and was thoroughly enjoyed by everyone - so much so  that the RES employees are talking about a return visit this season! The transformation from the team's initial tentative steps on to the ice to the quality of the stones being thrown at the end of the session was remarkable. The keen competitive spirit among the RES employees was also clearly evident during the ends of curling which were played!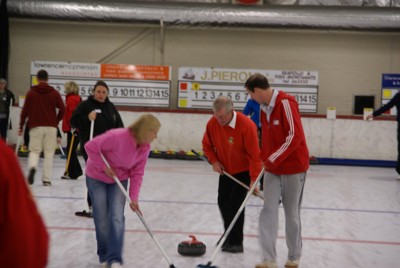 Ayr Ice Rink and Ayr Curling Club greatly appreciate the ongoing relationship with RES and were delighted that the Corporate Day was such a success and so clearly enjoyed by all the RES staff.  We look forward to welcoming them back to Ayr Ice Rink in the not too distant future.
Corporate Days centred on curling are a great way for companies and community groups to enjoy a sociable and fun day out or to develop team building. No experience of curling is required as we have qualified coaches who lead the curling sessions and provide the basic level of coaching required for such an event. We have more Corporate Days in the pipeline but would welcome approaches from any company or group of individuals who would like to experience curling in this Olympic year. 
For more photos of the RES Corporate Day, see our Gallery
Back to news <