Rink Championship, Paralympics and Women'sWorlds
14 March 2014
Bobby Ireland and his Crosshill Rink of Bert Andrew, Alex Connell and Ian Whiteford start their challenge for the Rink Championships  today at 9.30 in Forfar.
They have 5 games in their section and hope to qualify for the Quarter Finals on Sunday.
I'm hoping you'll be able to keep up with the results by clicking on this link.
On Saturday, the GB Wheelchair Curling Squad take on Russia at 5.30 am, hoping to secure a place in the Final.  The games are being broadcast on Channell 4, and occasionally on More 4.
Saturday also sees the start of the Ford Women's World Championships in St John New Brunswick, Canada.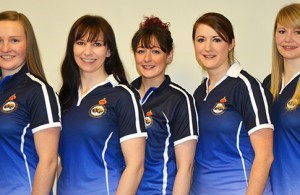 Scotland are represented by Kerry Barr, Rachael Simms, Rhiann Macleod, Barbara McPake and alternate Hannah Fleming.
The draw is here and you should be able to watch some of the games on the WCF Youtube Curling Channel here.
Back to news <