Eglinton Jug Final Results
17 October 2014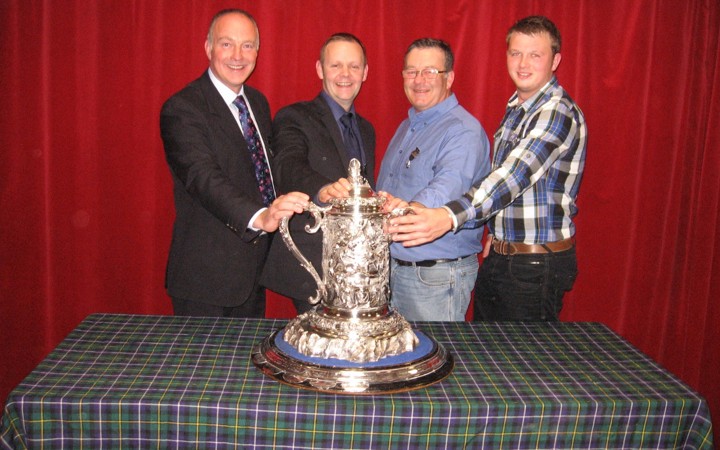 The annual competition for the Eglinton Jug,  Ayrshire's most prestigious curling competition was held at Ayr Ice Rink with thirty-seven rinks competing.
The Eglinton Jug was presented by the 13th Earl of Eglinton in l851  and is an amazing work of craftmanship and is competed for by Clubs in Ayrshire.
Winners this year were Galston Haymouth 1 with Skip Robert Anderson, Jim Strang, Tom Neill and Euan Cunningham.
Runners up were Dundonald with Skip Robert Wilson, Gemmell Jack, Jim Miller and Andrew Kerr.
The winning Ladies rink were Galston Haymouth 3 with Skip Lorraine Shaw, Alison Cunningham, Anne Anderson and Fiona Neilson.
Photo  L/R :   Skip Robert, Jim, Tom and Euan.
The four semi finalists for the Eglinton Jug are as follows:
Doonfoot will play Galston Haymouth 1 and Stewarton Heather 1 will play Dundonald 1.
The games are at 2.30 tomorrow (Friday) with final following at 7.15 pm.
Results to date are shown below:
Thursday 16th October
| | | | | |
| --- | --- | --- | --- | --- |
| 1/4 Finals |   |   |   |   |
| Stewarton Heather 2 | 2 | v | 3 | Doonfoot |
| Galston Haymouth 1 | 8 | v | 1 | Dalry |
| Stewarton Heather 1 | 8 | v | 3 | Galston Haymouth 3 |
| Ayr | 1 | v | 6 | Dundonald 1 |
| | | | | |
| --- | --- | --- | --- | --- |
| Round 3 |   |   |   |   |
| Stewarton Heather 1 |  6 | v | 5 | Ochiltree |
| Galston Haymouth 3 |  7 | v | 4 | Dalmellington |
| Ayr |  7 | v | 5 | Ayr & Alloway 1 |
| Sorn 1 |  4 | v | 6 | Dundonald 1 |
| Galston Haymouth 1 |  9 | v | 2 | Galston Haymouth 2 |
| Dalry | 11 | v | 1 | Dundonald 2 |
Wednesday 15th October
| | | | | |
| --- | --- | --- | --- | --- |
| Round 3 |   |   |   |   |
| Stewarton Heather 2 | 9 | v | 4 | Kirkoswald |
| Doonfoot | 7 | v | 3 | Auchenames |
| | | | | |
| --- | --- | --- | --- | --- |
| Round 2 |   |   |   |   |
| Kirkoswald | 10 | v |  1 | Riccarton 2 |
| Stewarton Heather 2 |  8 | v |  2 | Ayr & Alloway 2 |
| Ardrossan Castle  |  3  | v  |  9  | Auchenames  |
| Doonfoot  | 11  | v  |  2  | Gangrels 2  |
| Galston Haymouth 1  | 11  | v  |  3  | Tarbolton 1  |
| Mauchline  |  2  | v  | 13  | Galston Haymouth 2  |
| Stewarton Heather 1  | 10  | v  |  6  | Sorn 2  |
| Ochiltree  |  6  | v  |  5  | Galleon  |
| Crosshill  |  5  | v  |  7  | Galston Haymouth 3  |
| Dalmellington  |  8  | v  |  3 | Tarbolton 2  |
| Ayr Juniors  |  4 | v  |  5 | Ayr  |
| Ayr & Alloway 1  | 12  | v  |  0 | Kilwinning Eglinton  |
| Dalry  | 15  | v  |  3  | Stair  |
| Troon Portland 2  |  3 | v  | 16  | Dundonald 2  |
| Sorn 1  | 15  | v  |  3 | Ayr Country Club  |
| Dundonald 1  |  8 | v  |  3 | Fairywell  |
Tuesday 14th October  
| | | | | |
| --- | --- | --- | --- | --- |
| Round 1 |   |   |   |   |
| Dalmellington | 6 | v | 0 | Riccarton 1 |
| Tarbolton 2 | 7 | v | 5 | Gangrels 1 |
| Cumnock | 6 | v | 10 | Ayr Juniors |
| Troon Portland 1 | 7 | v | 8 | Gangrels 2 |
| St Leonards | 2 | v | 12 | Galston Haymouth 1 |
Back to news <