European Mixed Curling Championships 2014
16 September 2014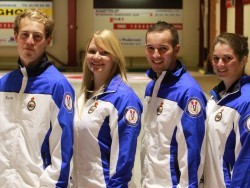 Billy Morton is currently playing in the Euro Mixed Championships in Taarnby, near Copenhagen in Denmark.
The rest of the team are Kyle Smith, Hannah Fleming and Alice Spence and they followed an early loss to the Czech Republic with wins over Latvia and Switzerland.
You can follow the action by clicking on this link.
Update at 10.00
Scotland beat Slovakia 6-4 and lie second in their group.
19.9.14
Steals of 1 shot at both the 8th end and extra end gave Scotland victory over Russia in a very exciting and tense last Round Robin game yesterday.
As a result they top Group B and will play in the Quarter Finals tonight at 7.00 local time.  The opponents will not be revealed until the final qualification tie breakers this afternoon.
20.9.14
Last Night in the Quarter Final game, Scotland had threes at the 4th and 6th ends on the way to beating Finland 7-5.  They play Norway in the semi final
11.00 am
Despite being 4 - 1 up at the halfway stage in the semi final against Norway, Scotland lost scores of 1,2 and 1 to lose the game 5-4. They will play Switzerland  in the game for the Bronze Medal at 3.00 pm this afternoon
Bronze Medal Game
A closely fought game, but one where Scotland were always under pressure. The Scots team were lying two shots at the last end but the Swiss skip played a good hit and lie to take one shot and win 7-5.
Sweden beat Norway 9-2 to win the Gold Medal
Back to news <