Hugh Fergusson Plate, Juniors at Newcomers and Closing Day
30 March 2015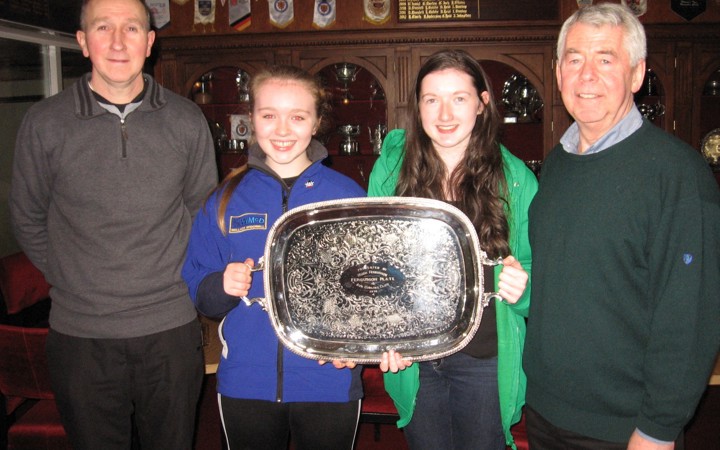 Sixteen rinks celebrated the 40th Anniversary of the Hugh Fergusson Plate curled at Ayr Ice Rink
over a 4 day period.
Winners of the "A" Competition were skip Keith Rennie, Colin Naismith, Rachel Ireland and
Eilidh Morrison. against the rink skip Gemmill Jack.
Winners of the B" Competition Skip Gavin Morton, Ernest Mutter, David McIntyre and Lynne Rowley against the rink skip John Steele.
Winners of the "C" Competition were skip Jim Boswell, Charlie Steele, Ben Howat and Emily Robinson against skip Morag Evans.
Sponsorship was courtesy of  Morag Evans and John Davers Fencing.
Winners photo  L/R  :  Skip Keith, Eilidh, Rachel and Colin.
Juniors at Newcomers Competition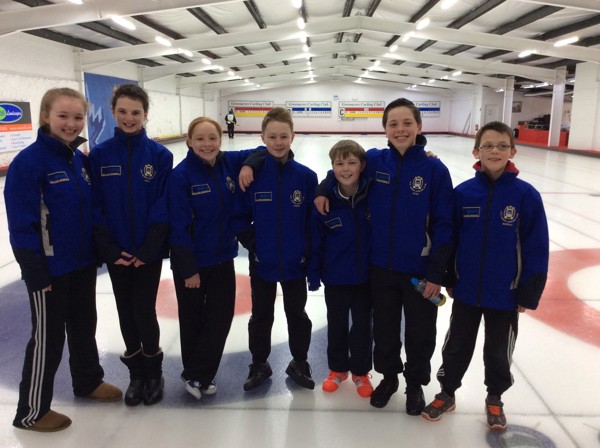 Here is a picture of our juniors at the Newcomers competition at Greenacres yesterday. They are, from left to right, Eilidh Morrison, Holly Hamilton , Beth Rowley, Logan Middleton, David Murray, Ryan Kennedy and Murray McHarg. Also there on the day but not pictured was Karen Shepherd.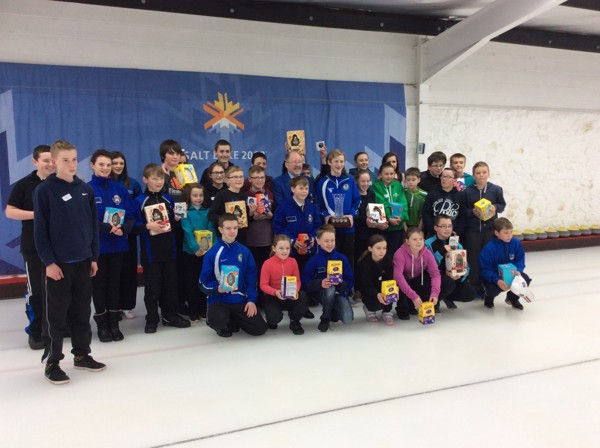 The second picture is of the prize winners of the day. Included in this is Holly who was lead in the team who came 3rd in the low road, beating Logan's team into 4th place. Also David whose team won the hotshots competition, beating Ryan's team into 2nd place.
Closing Day
18 rinks took part in the Closing Day Bonspiel at the Ice Rink last Friday. At this time of the season, the curling has been honed to a fine standard and after some good games there was an excellent dinner provided by Hazel and Steven of Passion Caterers.
The Prizegiving followed at which the highlights were the Maxwell and Morton Trophies, together with the Scottish Pairs Trophy being presented to Robert Clark and Murray Stevenson.
It was great to see so many junior curlers enjoying themselves and receiving prizes on the day.
Back to news <