Opening Day Bonspiel
23 September 2014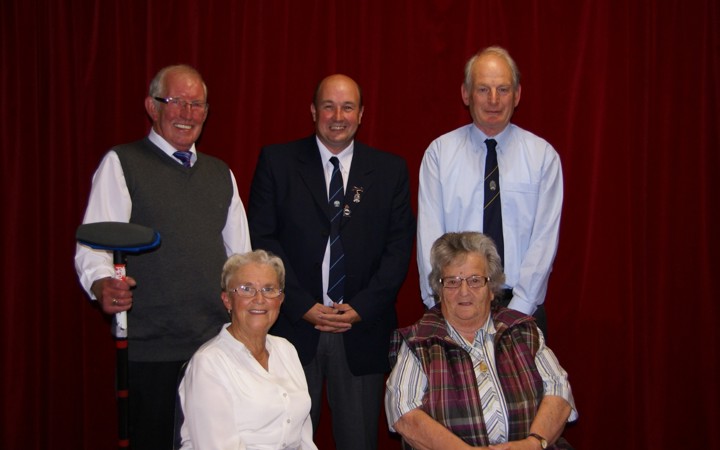 The successful format of the 40th Anniversary Bonspiel was repeated with great success at yesterday's Opening Day.
There were three sessions and each club was invited to send a rink to play , either for the President's Rinks or the Past President's.
In the 11.00 am session the scores were tied at 31 shots apiece and by a remarkable coincidence the 2.00 pm session was also tied at 31 shots each.
However, the new President, Bobby Ireland, must have inspired his troops because they had a substantial victory by 48 shots to 27 in the evening session.
Winning Rink Session 1  -  Icebergs
Winning Rink Session 2  -  The Bunnets
Winning Rink Session 3  -  Gangrels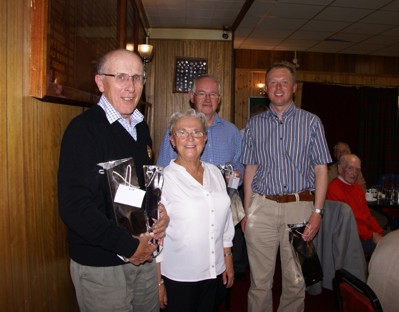 Gangrels  Winners 3rd Session
The Heading Picture at the top is of the Presentation to Charlie Otterson.  Sheila Watson and James Galloway made a presentation to Charlie on his retiral after 34 years service to Ayr Ice Rink.  President Bobby also made a presentation on behalf of Ayr Curling Club.
Charlie was accompanied by his wife Rosemary, one of the driving forces behind Kyle Figure Skating Club.
(If anyone had any more photos of the day, please forward them to me and I'll happily include them.)
Back to news <