Draw for Eglinton Jug Semi Finals
15 October 2015
Tomorrow (Friday) at 2.30, Sorn 3 will play Fairywell 2 in the first Semi Final of the Eglinton Jug. The other semi is between Stewarton Heather 2 and Dalry Union.
Both look to be tight games, with the winners playing in the Final at 7.15 tomorrow night.
Congratulations to Stewarton Heather. They had an 8 end in Wednesday's game.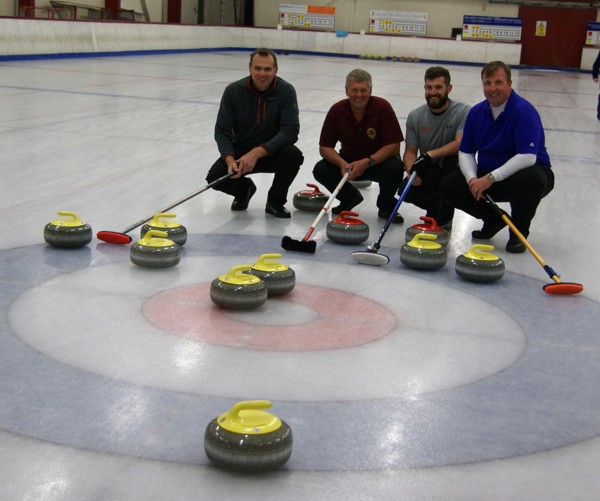 Pictured above Stewarton Heather team of David Mundell, Tom Reid, David Reid and Douglas Reid
Worthy of note this morning (Thu 15th) was the match between Fairywell(2) and Fairywell(1) where the fathers Keith Rennie(skip) and George McNaughton Snr(3rd) were well trounced by their sons Sean Rennie (skip) and George McNaughton 3rd.

In the 1/4 Finals we have another Sorn versus Sorn match where Robert Clark comes up against his long time 3rd John Johnston Jnr 
Results to date:
Ayr Ice Rink - Eglinton Jug Results
Round 1

Stewarton Heather(2) 20    Mauchline 2;
Gangrels(2) 7    Ayr & Alloway(1)  5;
Dundonald(1) 6    Galston(2) 7;
St Leonards 8     Tarbolton(1) 6;
Ayr &  Alloway (2) 14     Auchenames 1;
Dalry Union 5     Kirkoswald 3;
Sorn(2) 11    Kilwinning 4;
Galston Haymouth(1) 9     Galston Haymouth(3) 1;
Dundonald(2) 7      Tarbolton(2) 3;
Sorn(1) 2     Ayr Curling Club 6;
Troon Portland(2) 2     Fairywell(1) 7;
Gangrels(1) 4     Fairywell(2) 7;
Sorn(3) 7     Crosshill 6;
Riccarton(2) 8      Ochiltree 1;
Riccarton(1) 3     Stewarton Heather(1) 11;
Ayr Country Club 10     Ardrossan Castle 9
Round 2
Galston Haymouth(2) 6     Gangrels(2) 8;
Stewarton Heather(2) 13    St Leonards 4;
Dundonald (2)  4     Ayr Curling Club  6;
Galston Haymouth(1)   3       Sorn(2)  6;
Sorn(3)  16     Ayr Country Club 1;
Stewarton Heather(1)  9     Riccarton(2)  2;
Dalry Union 5     Ayr & Alloway 4;
Fairywell(2) 11     Fairywell(1) 5;
1/4 Finals

Fairywell(2)  5    Ayr Curling Club  4
Sorn(2) 3    Sorn(3)  7
Dalry Union  6    Stewarton Heather(1)  5
Gangrels(2)  1     Stewarton Heather(2)  8
Tue 13 Oct 12.00

Wed  14 Oct 12.00

Thu 15 Oct 9.45

Thu 15 Oct 2.30

Fri 16 Oct 2.30

Final

Fri 16 Oct

7.15

Winner

First Half

Gangrels 1

 

 

 

 

 

 

V

Fairywell 2

 

 

 

 

 

Fairywell 2

 

 

 

 

 

 

Tr Portland 2

 

Fairywell 2

 

 

 

 

v

Fairywell 1

 

 

 

 

 

Fairywell 1

 

 

 

 

 

 

Dundonald 2

 

 

Fairywell 2

 

 

 

V

Dundonald 2

 

 

 

 

 

Tarbolton 2

 

 

 

 

 

Sorn 4 v

 

 

Ayr

 

 

 

Sorn 1

Sorn 1

 

 

 

 

 

 

v

Ayr

 

 

 

 

Ayr v

Ayr

 

 

 

 

 

Cumnock

 

 

 

 

Fairywell 2

 

Tr Portland 1v

 

 

 

 

 

 

Galston 1

Galston 1

 

 

 

 

 

 

v

Galston 1

 

 

 

 

 

Galston 3

 

 

 

 

 

 

Kilwinning Egl.

 

Sorn 2

 

 

 

 

v

Sorn 2

 

 

 

 

 

Sorn 2

 

 

 

 

 

 

Wed 14 Oct  2.30

 

 

Sorn 3

 

 

 

Sorn 3

 

 

 

 

 

 

v

Sorn 3

 

 

 

 

 

Crosshill

 

 

 

 

 

 

Ayr Country Club

 

Sorn 3

 

 

 

 

v

Ayr Country Club

 

 

 

 

 

Ardrossan Castle

 

 

 

 

 

Second Half

Wed 14 Oct  9.45

Wed 14 Oct  2.30

 

 

 

 

 

Dundonald 1

 

 

 

 

 

 

v

Galston 2

 

 

 

 

 

Galston 2

 

Gangrels 2

 

 

 

 

Gangrels 2

 

 

 

 

 

 

v

Gangrels 2

 

 

 

 

 

Ayr & Alloway 1

 

 

Stewarton H 2

 

Stewarton Heather 2

 

Mauchline

 

 

 

 

 

 

v

Stewarton H

 

 

 

 

 

Stewarton H 2

 

Stewarton H 2

 

 

 

 

St Leonards

 

 

 

 

 

 

v

St Leonards

 

 

 

 

 

Tarbolton 1

 

 

 

Stewarton Heather 2

 

 

 

Thu 15 Oct  9.45

 

 

 

 

 

Dalry Union

 

 

 

 

 

 

v

Dalry Union

 

 

 

 

 

Kirkoswald

 

Dalry Union

 

 

 

 

Auchenames

 

 

 

 

 

 

v

Ayr & Alloway 2

 

 

 

 

 

Ayr & Alloway 2

 

 

 

 

 

 

Wed 14 Oct  2.30

 

 

Dalry Union

 

 

 

Stewarton H 1

 

 

 

 

 

 

v

Stewarton H 1

 

 

 

 

 

Riccarton 1

 

Stewarton H 1

 

 

 

 

Riccarton 2

 

 

 

 

 

 

v

Riccarton 2

 

 

 

 

 

Ochiltree

 

 

 

 

 

 

 

 

 

 

 

 
Back to news <