Le Gruyere European Championships start on Friday 20th
18 November 2015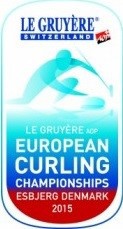 Eve Muirhead's team of Anna Sloan, Vicci Adams and Sarah Reid start their campaign on Friday 20th against host team Denmark at 5.30 local time.
The Scottish men have difficult opener on Saturday morning against Norway's Thomas Ulsrud. The Scottish team is Kyle Smith (skip), Thomas Muirhead, Kyle Waddell and Cameron Smith.
Games will be broadcast on Eurosport and the TV schedule is here, but don't expect to see Scotland unless we reach the latter stages.
For all the schedules, results and news click on the event website here.
Back to news <