Marie Curie Bonspiel
21 March 2016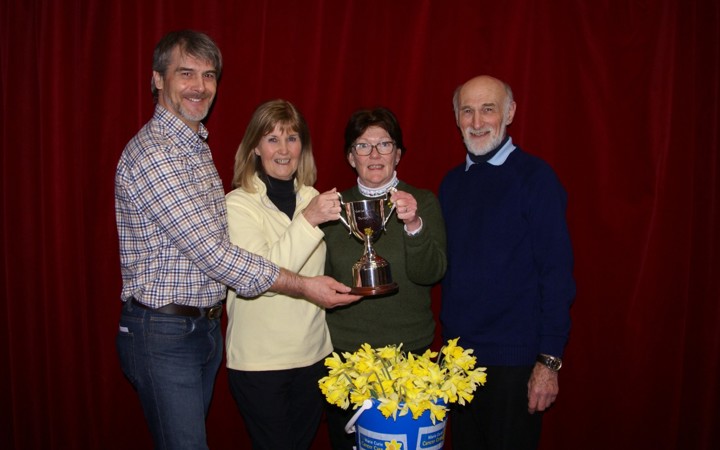 On Sunday 20th March, we held a bonspiel in aid of Marie Curie, and 32 wonderful people entered. The cost was £20 per person and soup, sandwiches and coffee or tea was included. Tea and coffee was donated by Passion Caterers, many thanks.
We had 8 teams playing  3 x 4 end games, which I thought was sufficient, after having had such a hectic, but enjoyable season.
The winning team was skipped by our President, Tom Andrews, Bob Forrest, Frances Fyfe and Anne Wilson. Well done to you all!!! They were presented with vouchers for Dobbies and the beautiful, shiny Marie Curie trophy, by South West Scotland Fundraiser, Elma Mitchell.
Where there is a winning team, there is always the strongest team holding the others up, and this team was skipped by our Vice President, Lou Costello and his team of John McWhirter, Janice Sutherland and Alan Costello. They were delighted when they received their booby prize of an Easter Egg.
There was a superb raffle and many, many thanks go to everyone who donated prizes and bought raffle tickets. You are all so very generous.
The fantastic amount raised on the day was £800, and I have had a further £100 donated by James Galloway, who made beautiful curling stones and sold them.
The ice and prizes were sponsored by very good friends of Ayr Curling Club, QTS Group.
I would like to thank all of our sponsors, donors, Ayr Curling Club members, Board and staff, who supported the event and made it such a special day.
I have a lovely hamper of goodies, which I shall raffle on Friday's Closing Day, and the proceeds will also be donated to Marie Curie, so let's see if we can top  £1000!
Once again, thank you all so very much.
Cathy Costello.
Back to news <