World Seniors and Mixed Doubles Championships
16 April 2016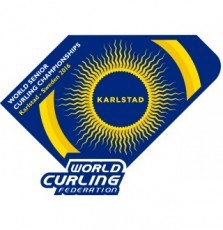 Yesterday saw both Scottish teams win their opening games in the World Senior Curling Championships. The are being held at Karlstadt in Sweden.
Gordon Muirhead's team of Norman Brown, David Hay and Hugh Aitken were first off the mark with a good 7-4 victory over the Czech Republic team.
Later in the day, Jackie Lockhart won by 9 shots to 1 against last year's silver medallists, Italy.  Jackie's team is Christine Cannon, Isobel Hannon and Margaret Richardson.
Keep up to date with all the results by clicking here.
Also in Karlstadt, starting today, are the World Mixed Doubles Championships.
Scotland's duo is Bruce Mouat and Gina Aitken and their results can be found here. This is also the link for watching live games or see the World Curling You Tube Channel.
Back to news <