Ayr perform well in Waldie Griffith
07 November 2016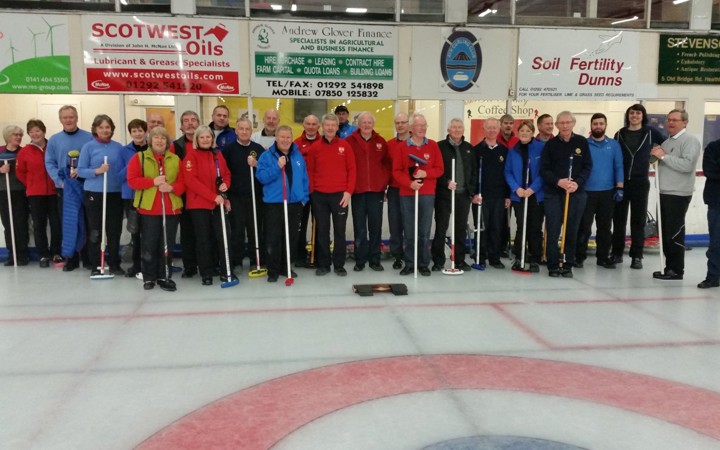 Following last year's epic win in the RCCC Waldie Griffith Competition, yesterday saw the four rinks endeavouring to defend their trophy. 
Andrew Kerr reports as follows:
"The four Ayrshire rinks gave themselves a sporting chance of retaining the Waldie Griffith Trophy this afternoon when we played against Dunbartonshire Province.
Billy Howat stood in for Gemmill Jack ( on church duty ) and with Tom Andrews, Morag Evans (replacing the injured Carlos) and Lilian McIntyre came out 7-3 winners against Kelvinside Academicals.  My own rink of Bert McKay, Mike McNeil and Jamie Mason ran out 7-4 winners against Helensburgh. Gavin and Jean Morton with Alison and Bill Alexander went a bit better against Partick winning 9-2 but the stars of the day were the Dalmellington rink skipped by Margaret White with Rob White, Sandy Frew and Dave McIntyre who showed no mercy seeing off Bearsden 16-4. Last year's Dalmellington rink was skipped by Ian Alexander and, I am afraid to say, were the one rink which lost. Ian opted for the Queen Mary 2 to New York this year but clearly, with Mags moving up to skip and Dave being called in, the Dalmellington rink has been greatly enhanced !!
We will have to wait until the end of the season to see how we have fared but with a combined score of 39-13, as I said earlier, we have given ourselves a sporting chance of retaining the trophy.

After the games we sat down to an Asian buffet prepared by Steven and Hazel and enjoyed the company of our guests.

Well done to all the Ayrshire Province rinks.
Andrew"
Last season, Ayr won with an average shots up score of +3.25. By my calculations, this year they have an exceptional +6.5, so we're definitely in the reckoning.  The other Provinces in Scotland play at different times, but if you click here you can follow the results as they come in.
Back to news <