The Sheriff's Stones
26 August 2016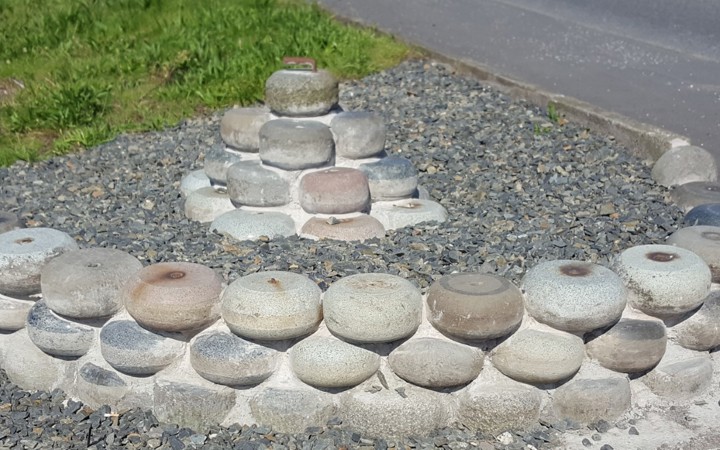 When you next drive in to the car park at Ayr Ice Rink, have a look at the wall of stones that grace the far side of the entrance.
These have been erected as a tribute to the late Sheriff David Smith and I am indebted to Andrew Kerr for sharing the background to this unique memorial.
Most Ayr members will have been aware of "The Sheriff's" reputation as a collector of all things curling. With respect, I don't think that even his closest friends would have been even close to knowing just how much curling history had been assembled in the house David shared with Hazel in Troon.
On his death, fittingly, on St Andrew's Day last year, David's entire collection was bequeathed to the Scottish Curling Trust and arrangements were made by the Royal Club to transfer everything to a storage facility at Stirling from where it could be properly catalogued and, hopefully, one day, put on display.
As you can probably imagine there were a huge number of photographs and paintings and even a tapestry which had come from one of the carpet manufacturing companies in Ayr. In addition, there were any number of curling mementoes, books, papers, brooms and outdoor curling "implements" but the most notable were the stones and the literally hundreds of brass curling stone handles.
It is no exaggeration to say that there were curling stones under the beds ; they filled cupboards from floor to ceiling ; they were up the main staircase ; they were under seats and they were even on shelves in the pantry. In total, there were some 300 stones transported to Stirling ! 
Now, these all came from inside the house and represented stones from all the various sources of granite down through the years. However, what of the stones which adorned the outside of David's house ? 
By and large these were not of the same quality as those inside and whether it was that or whether it was a case of enough is enough but we persuaded the Royal Club's Bruce Crawford that these stones could be made into a fitting tribute to David at his home rink and so it came to pass that Gemmill Jack, a Director of the ice rink, built the wall of stones which can now be seen at the entrance to the car park.
There are the best part of 100 stones in the wall which has attracted favourable comment from all those who have seen it and I am sure all the Ayr curlers will agree that it is, indeed, a fitting tribute to David B Smith, "The Sheriff" - possibly the last great character of our sport.
With thanks to Gemmill, Billy Howat, Jim Miller, Gavin Morton and Jamie Mason for their help in moving David's vast collection.
For some more info on the background, have a look at Bob Cowan's thoughts in the Curling History Blog
here
Back to news <