Ayr Juniors shine in Italy
20 April 2018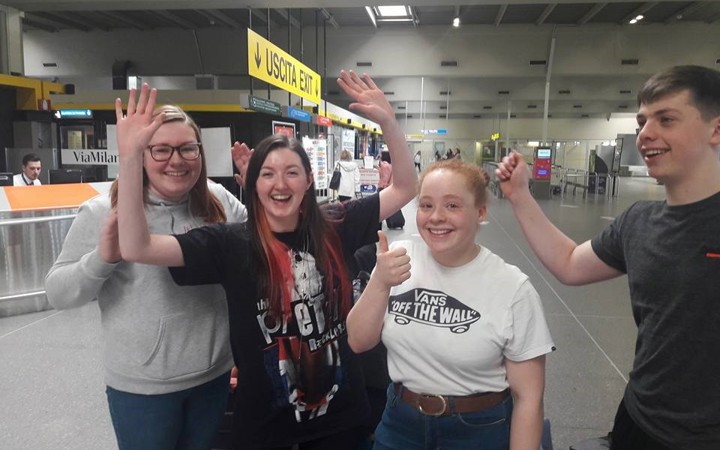 Report by Amy
The Ayr juniors arrived in the picturesque Pinerolo (Italy) on Thursday 12th April.
 After meeting a few friends and dinner at the hotel we retired to bed for an early start at 9.00. They played the home team Pinerolo2, four girls, one of which represented Italy in the world juniors. Our team played well and got to grasp with the weight of the ice very quickly, out drawing their opposition. They did get into trouble mid way through the game but Rachel played a great draw  to prevent the opposition taking a 4 or 5. The final score was 8-5 to Ayr.
Due to the schenkel system this meant they  had to play Pinerolo 1, the boys team. Unfortunately the opposition skip  played very well and they found it hard to build up ends and lost 8-3.
Due to their high number of ends they  still stayed in the top half and played Kinross which was skipped by Beth Farmer and also had 3 players from the under 21 /under17 circuit. The team played well but team Farmer missed nothing and had their weight from the start. Ayr lost 10-3 but still managed to get 3 ends. Unfortunately this meant that they had to play at 7.45 on the Sunday morning and sleep was in short supply, however they came out guns blazing and played great game beating England 8-2. 
The final standings placed Ayr in 6th place out of 10, but they were only beaten by the top two teams from the section which was a great achievement considering the standard of the competition. It should also be noted that a lot of the opposition teams play together on a regular basis and have much more experience that Ayr. 
We would like to thank anyone who has donated to the Ayr Juniors, this money allows the players the chance to attend  this fantastic competition and meet many players from countries all over Europe. The players were a credit to Ayr club with great sportsmanship on and off the ice and they have had an experience they will never forget.
Back to news <