Curling Workshop - 20th November
30 October 2017
Ayr CC are holding a Curling Workshop on Monday 20th November.
This is for those wanting to improve their technique and take advantage of the video analysis by experienced tutors, Scott Andrews and Alison Cunningham.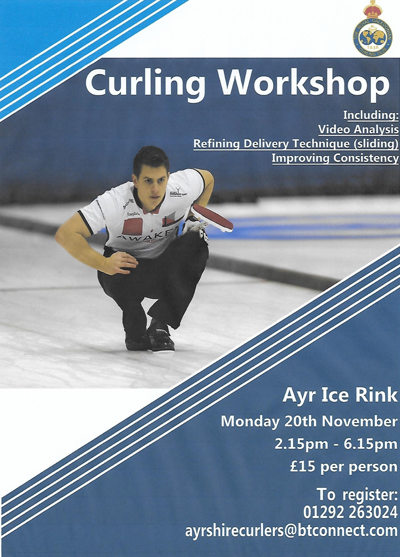 This is the first time we have arranged this type of seminar and as the poster says it is offering video analysis to assist in refining delivery techniques of the sliding delivery and we hope that it will be of interest to many of our Ayr CC members.  Unfortunately the timing couldn't be arranged out with working hours but hopefully it will be convenient for those interested in attending.  
Places on the course will be limited so please register quickly with Theresa in the office.
The cost is just £15.00 - the timing 2.15 - 6.15pm on Monday 20th November.
Back to news <