Curling Stone Handles for Sale
15 October 2018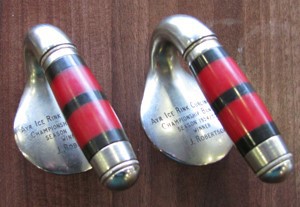 A friend of Dave McIntyre has given us the heads-up about special handles associated with Ayr Ice Rink.
"There is going to be a fund-raising auction of curling memorabilia at Murrayfield next month. Gordon Addison handed in a pair of handles last night with a connection to Ayr Ice rink.  I believe Gordon's late father had some connection with Ayr, but don't quote me on that! The inscription reads in full:
AYR ICE RINK CURLING CLUB
CHAMPIONSHIP BONSPIEL
SEASON 1954-55
WINNER
J. ROBERTSON
Perhaps there might be some interest in these handles from Ayr Ice Rink curling club, or even relatives of J. Robertson.  Can you ask around please and see if there is any interest?  I'll be through at Ayr next Friday for the friendly with Corstorphine Curling Club, so you can let me know if there's any interest then.  I have no idea what sort of price the handles might generate at auction, but if necessary, I can act as an agent on your behalf!
Calder."
Anyone interested please get in touch direcly with Dave McIntyre
Back to news <