Harry Hart Match
07 November 2018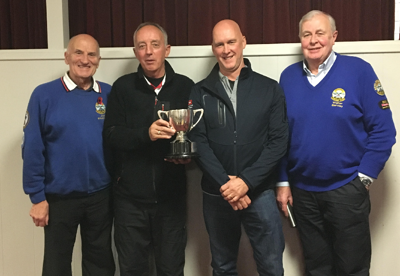 The annual match between the Ayrshire and Renfrewshire Provinces for the Harry Hart Trophy took place at Ayr on the 7th November.
On sheet 3 Neil Beattie"s Ayr & Alloway took on a rink from the Gourock Club and were 4 all after 4 ends. Neil picked up a single in the 5th but the game was won and lost in the 6th when, with Ayr & Alloway lying shot, the Gourock skip managed to come through a port when that hadn't been his nominated shot and take the Ayr stone out to lie 3. Gourock then picked up a further 3 in the 7th to run out winners by 10 shots to 5.
On sheet 4 Province President Billy Howat's rink were up against Willie Brown"s Reform rink. This game also swung on the 5th end when Willie's last stone moved an Ayrshire stone and Willie had to settle for a single shot instead of the 3 which was on the cards.. Billy took full advantage of this break by taking a 3 in the 6th and a single in the last to come out on top by 9-2 - a score which didn't reflect the closeness of the game.
So, with a win each to both Provinces, the outcome of the match rested on the game between the Land o" Burns skipped by John Evans and Walter Miller"s rink from Between the Sheets. Walter was always well in control with the Land o" Burns limited to a score of 2 in the 2nd end and 2-6 down before getting another 2 in the 6th to make the last end more nervous for Walter but he managed to get a 2 to finish 4 shots to the good at 8-4.
After the match the the trophy was presented to Willie Hawthorn of Gourock CC as the highest up rink on the winning side.
So who was Harry Hart ? He used to let out the rowing boats on the seafront at Largs.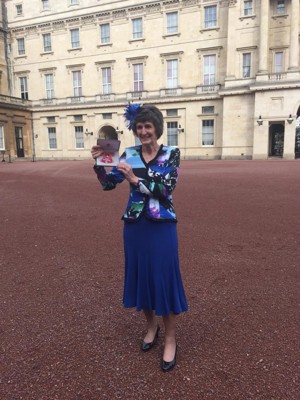 And here is one notable absentee form the match - she had other business that day!
Back to news <