National Virtual Club Challenge
31 March 2019
"That was a great day yesterday at Braehead for all the 18 Virtual teams from around Scotland and for the 3 teams from Ayr.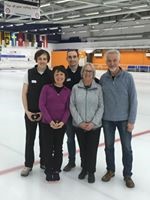 Ok things didn't go so well as expected for one of the teams and it was very nearly good for another but the five member team of Mark Higgins, Andrew McElwee, Jack Shanks, Ann Nicol and Kay Bennett were unbeaten in the section games with two wins and a peel which took them to the semis of the low road which they won 4-0 but were then just beaten in the Final after a tough fight back.
Congratulations to them all.
And good to have the support of Alistair, Bob and Robert throughout the day.
A fitting end to a very successful year for the Ayr Disnae Virtual Club."
Thanks to Kirsty Letton for the above report.
Back to news <