Points Competition
21 March 2019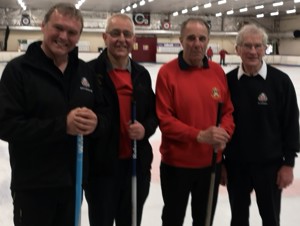 The Points competition was organised at short notice, and the only ice available was a weekday afternoon, 21 March 2019. Hence we had a poor turnout. Next year the date will be set in advance.
So four men and two ladies contested the silverware. Four trophies were at stake – one for the ladies winner, The Littlejohn Cup and one for ruuner up, the Girlie Low Salver. One for the men over one round, the  and the Smillie Trophy, which is awarded to the highest score over two circuits i.e. playing 9 disciplines twice!
Isla Robison managed to beat Linda Stewart to win the Littlejohn Cup with Linda taking the Salver. Jim Boswell, with 36 points won the first round, with Scott McClelland on 34, Charlie Steele on 33 and Charles Sutherland on 32. All very tight as the four men headed for lunch before the second round.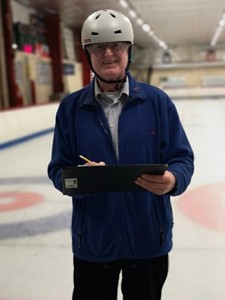 Jim's greater experience (or age!) proved crucial as he scored 41 points in the afternoon, leaving the others trailing, and very tired! Nine disciplines twice is 72 stones – compare that to a normal game where you throw 14 or 16 stones.
Congratulations to Jim, who wins The Smillie Trophy, and a special thank you to Ed Baines, who braved the cold and acted as scorer throughout.
Back to news <