Super League Week 11 Final standings
23 February 2019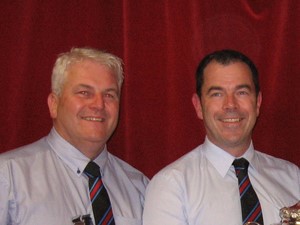 21st February 2019 saw the Superleague reaching its conclusion and, although Rab Clark was out in front, Billy Morton's rink could still have snatched the title and with points to play for in order to secure ranking in the final night play offs, there was interest across all six games.

On sheet 1 it was Neil Sands against Gail Thomson but with Neil Kennedy skipping Team Sands and Sheila Kennedy in Gail's rink there could have been a "domestic"! Unfortunately for the girls it was an uphill struggle with Neil keeping the pressure on throughout restricting Gail to singles in just the third and fifth end. At 2-8 down after six ends the girls had had enough and let the boys buy the drinks.

Bert Andrew was off on a course this week and his rink was, once again, skipped by Bobby Ireland with Ian Whiteford and Alex Connell in as the subs for Bert and Jimmy Ireland. They were up against Billy Morton's rink eager to pip Rab as Superleague champions. Bobby's performance belied their league position with the scores tied at 3 all after five ends. The breakthrough came in the sixth when Billy took a three and despite Bobby getting two singles in the seventh and eighth it wasn't quite enough and Billy ran out winner by 6 shots to 5.

The game on sheet 3 looked to be a cracker pitting Liam Scott against Dougie Paton and so it turned out. Shaun Rennie skipped Liam's rink with Liam himself playing at two, Alastair Middleton at three and Aileen Rennie leading. Dougie had his usual Stewarton Heather rink and took a one in the first end but then Shaun blanked ends two and three before making the hammer count scoring a big three in end four. Shaun followed this up with a single in the fifth and although Dougie took a one in the sixth, Shaun piled on the pressure and took a two in the seventh to run out winner by 6-2.

Would the pressure get to Rab Clark on sheet 4 where he was up against his old Scottish Champion skip Billy Howat? An upset was looking a possibility with ends one and four being blanked and Billy ahead by 2-1 going into the sixth. However, the wheels came off the Howat bandwagon in a big way in the sixth. Some might put it down to Gavin Morton's new contact lenses but truth be told, there were poor shots played right through the rink and the result was a four going in favour of Rab. At 2-5 down it was always a big ask for Billy in the seventh and Rab stole a one to secure victory and the Superleague title by 6 shots to 2.

On sheet 5 it was Ian Alexander's rink with Ian himself restored to the team and skipped again by Mark Pieroni with Allan Forrest at three and Tom Andrews at two up against the mother and son Mundell combination who were being assisted by Ricky Goldie and Iain Dunlop. As it transpired the two won by David Mundell in the first end proved to be the decisive score. Throughout the game singles were swapped or, in the fifth, the end was blanked resulting in a score of 5-3 in Team Mundell's favour after eight ends. Just as well this was the final league game as otherwise Elsie Mundell might well have put Dougie Reid's place in Team Mundell at risk!

And so onto sheet 6 with James Dykes taking the head this week in Team Hope against George McNaughton's rink. The roof unfortunately caved in on George's rink losing a five, a two and a three in quick succession resulting in a score of 10-1 after just four ends and although George picked up a one in the fifth, Team Hope added to George's miserable night with another two in the sixth at which point the teams retired to the bar with a score of 12-2 in favour of Team Hope. Just one of those nights!

The Superleague league table is on the website with all the detail. Congratulations to Team Clark (Rab, Murray Stevenson, Robert Anderson and Johnny Johnston), this year's Superleague Champions. Team Morton are runners up with Team Scott in third place.

Thanks to all the curlers who have participated throughout the season and also to the sponsors, RURAL FINANCE,  HILLHOUSE QUARRY GROUP and the Board of AYRSHIRE CURLERS LTD.

Why not come along next Friday night 1st March and watch the play offs. Games start at 5pm with the final at 7.30.
Back to news <