Willie Johnston Trophy
05 March 2019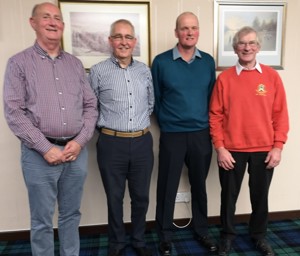 Three Ayr rinks headed up the M77 on Monday to try and retain the Willie Johnston Trophy against Hamilton. The President's rink was skipped by Bobby Gault with the others skipped by Jim Boswell and Jamie Mason.
Jim's rink were always in control but on the other hand, Jamie's rink were always under pressure so with the prospects of one game heading towards an Ayr victory and one looking as though it was going to Hamilton, it fell on the President's rink to decide where the trophy was heading. Bobby lost the first two ends and was three down before his rink got to grips with the ice but they pulled back and then surged ahead with a big score of four and managed to see out the game ensuring it was Ayr's name which would be going on the trophy.
After the game the trophy would have been presented to President Bob, that is, if Jamie Mason hadn't left it sitting on his hall table ! He did however, have a photograph of it on his phone and, to the amusement of all, his phone was presented to Bob by the Hamilton captain for the day, Bob Parry.
Thanks to the Hamilton curlers for their hospitality and well done Jim Boswell, James Dykes, Charlie Steele and Robert Boyd, being the highest up rink on the winning side.
Back to news <