4 Nations Competition
28 January 2020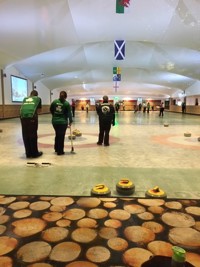 Ayr was well represented at the 4 Nations competition held at The Flower Bowl, Preston last weekend. The Scottish team was headed by Royal Club Vice President Andrew Kerr and Ladies Branch Vice President, Corrie Lawrence but also included Tom Andrews, David Hope and Dave McIntyre whilst Ireland was represented by Aaron Cameron and England by Jacob Whittle.

A number of trophies were being contested between the four home nations with Scotland winning the Tom Ballantyne and Connie Miller Trophies against England's men and women respectively along with the Marshall Millennium Trophy for mixed rinks against Ireland.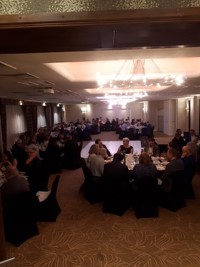 As well as some excellent curling this is also a very social  weekend and our Welsh hosts organised a superb dinner dance on the Saturday night. The lateness in getting to bed by some may have contributed to Scotland just missing out to achieving the Grand Slam when Tom Andrews, in his own words, couldn't get to grips with the huge swings in the ice in his game against Wales on Sunday morning but at least Tom's team were on the ice unlike Ayr's English representative !!

Three out of four trophies was quite an achievement and there's no doubt England, Wales and Ireland will be out to wrest them back from Scotland when the competition comes to Ayr next year.
More photos can be found in the Gallery tab above, or by clicking here.
Back to news <