Symington Cup
20 November 2019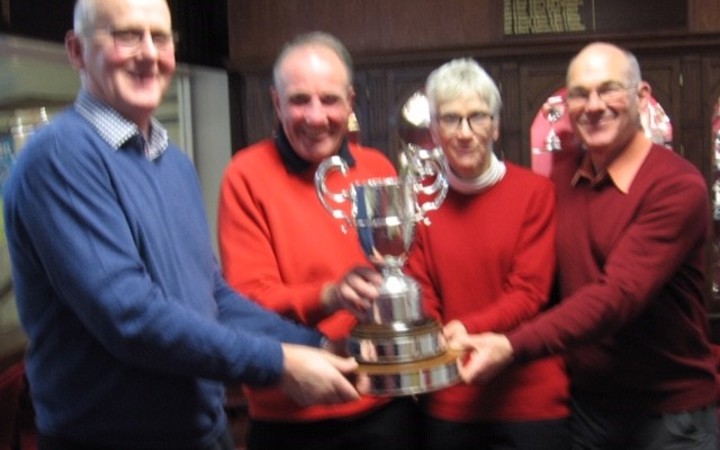 For those whose memory has not yet failed you may recall that there was an Ayr CC Houldsworth  Trophy and, I believe, another played for by Dalmellington CC.
Major Houldsworth originated from Coodham just outside Symington and he also presented a cup for annual competition between the Symington and Dundonald Curling Clubs. In fact his name is inscribed on the cup as skip of the winning rink on the first occasion the game was played in 1909 - 110 years ago !
This year the game was played on 19th November between three rinks from each club with Symington wrestling the cup from Dundonald's grasp by winning two of the three games.
The games were all closely contested and the result could quite easily have swung in Dundonald's favour but it was not to be Dundonald's night. After the game the company enjoyed a meal before the Dundonald President, Morag Evans, presented the cup to the highest up skip from Symington, Gemmill Jack. In reply Gemmill gave a little bit of history to the assembled company with May Steel adding her local knowledge of Coodham.
Photo shows the winning Symington rink of Gemmill Jack, Charles Sutherland, Kirsty Woolley and Graham Plews. 
Thanks to Andrew Kerr for the above report. You will note that the photo is slightly blurred.  Andrew denies taking it himself.  Someone certainly needs a steadier hand!
Back to news <