Congratulations to Andrew Kerr - President RCCC
28 June 2020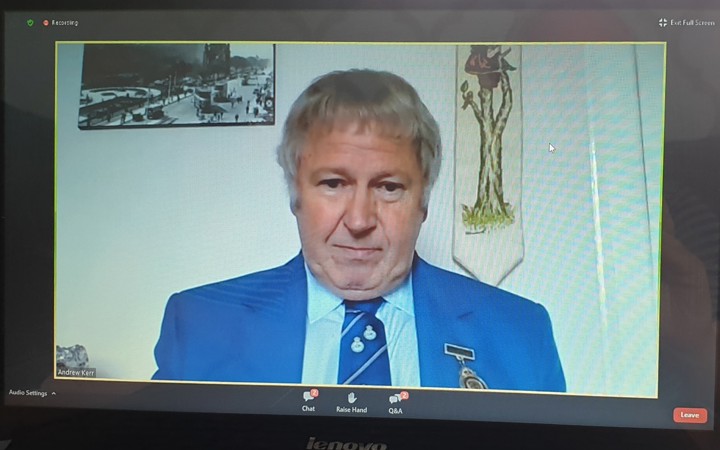 Congratulations to Andrew who was appointed President of the Royal Club at yesterday's virtual AGM.
Andrew made a good acceptance speech at the end of an unusual meeting, conducted using Zoom.  Although he looked quite serious (that picture was the only one where his eyes weren't looking down), he has the distinction of being voted in at a meeting attended by 410 members.  Surely the largest attendance level for many a year!
A report of the AGM can be found on the RCCC website, by clicking here.
The motion put forward by New Abbey Curling Club "To overturn the Board decision to use selection to determine teams to represent Scotland at World Championships"  narrowly failed to meet the 75% threshold, but was supported by 68.7% of the votes, a substantial 587 members.   A selection system will thus be used to determine Scotland's team at next year's World Championships.
However, Graham Lindsay, Chairman of the Board, noted the opinion of the majority of members and indicated that they would "commit to readdress this question" in the coming months.
Other notable events for local clubs was the (virtual) presentation of the Coach of the Year award to Bob Forrest, and a medal to Troon Portland for 100 year's membership of RCCC.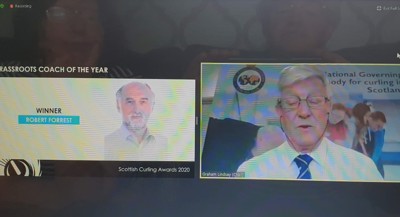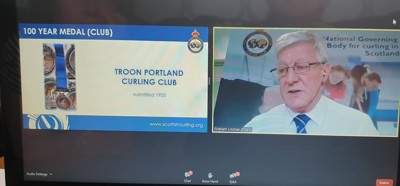 We are also delighted that Corrie Lawrence will be President of the Ladies Branch during the coming year.
Back to news <