Ayr Disnae B wins Challenge
27 March 2022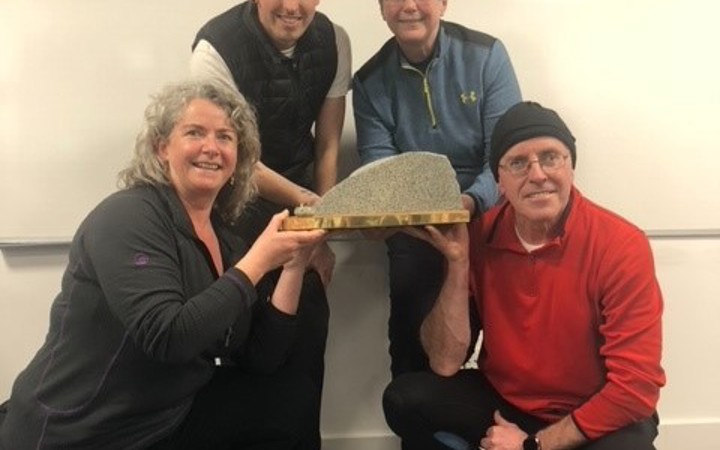 Congratulations to Ayr Disnae B (Andrew McElwee, Tony McMonagle, Jean Pearce, Diane Wilson) who beat Edinburgh side New Stones 7-3 to triumph at the National Gateway (Virtual) Club Challenge. Special thanks goes to British Curling Supplies who kindly donated the prizes for the event.
10 teams went into the competition at Moray Leisure Centre, Elgin, all playing three games each to decide the play-off spots. Ayr Disnae B booked their place in the final with a perfect unbeaten run. Starting their campaign against home team Elgin Granite, they came back from a disadvantage after End 1 to eventually win 4-1. They led from the start against Forfar V1 to overcome them 4-1 before securing a confidence-boosting 9-0 victory over Moray side Wheelies & Feeties.
New Stones (John McOmish, Max McMullon, Alan Gill, Susan Gill) too went undefeated to clinch a spot in the final. Getting off to a 4-1 win over Wheelies & Feeties, a tougher challenge followed against Forfar V2. After trading singles, New Stones took a more comprehensive advantage with a deuce in End 3 and when the Moray side could only respond with a one, the game finished 3-2 in their favour. Finishing off with a 9-2 victory over Fife Ice Arena, New Stones went into the final with their spirits high.
Ayr Disnae B started the final with hammer and used it perfectly to secure three points in the first end. They followed it up with a single steal, but the game was suddenly wide open again when New Stones scored three in the third end to cut down the deficit. The Ayr side did not let the pressure get to them and decided proceedings with another three points, the final score reading 7-3.
The game for third and fourth was a face-off between the two home teams Moray Gateway and The Spice Curls. Although Moray Gateway utilised hammer in End 1 to open the play-off with a deuce, it was all Spice Curls thereafter. Scoring two themselves, they levelled the scores before taking the lead with a three-points steal. A blank fourth end meant the game finished 5-2.
Back to news <