Dunlop Memorial Salver 21-22
11 March 2022
Dunlop Memorial Salver 2021-2022
The final game and prizegiving of the DMS took place on Tuesday 8th March, with a full house of 48 players in attendance.
Grateful thanks are due to our top table sponsors and guests: Debbie Fleming of The RAD Hotel Group, Liz Goldie of Ayr Curling Club Board and Margaret Morton, who established the competition with her late husband Willie.
Following closely contested, friendly games, a delicious meal was served by Lorrie and his team and then the prizes were then awarded as follows: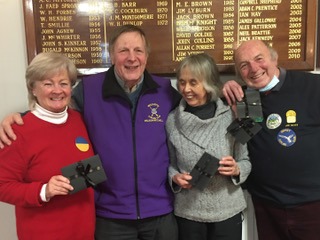 League winners:
Wilson Mitchell (skip)
Corrie Lawrence
Alicia Smith
Joe Hayes
League runners up:
Ross Drummond
John McWhirter
Mary Foy
Jack Shanks
League (third):
Elly Branch
Moira Drummond
Ian Robertson
Chris Clow
Knock Out winners:
Colin Naismith
Nora McCrossin
Mary Shaw
Kay Bennet
Knock Out runners up:
Euan Lawrence
Helen Lyburn
Elizabeth Shaw
Joe Hayes
The Flying Duck was this year awarded to James Galloway and his team of Jim Morrison, Frances Marshall and Louise Macdonald.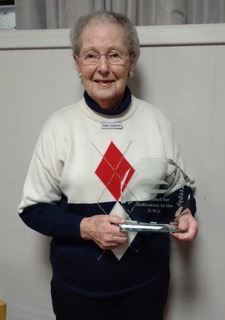 Last, but by no means least, the Morton Trophy is presented annually to the member who demonstrates the true spirit of curling, displays commitment and sportsmanship.  It is voted on by members and this year was awarded to Betty Dalgliesh, who has curled for over 45 years, mainly with Irvine Ladies and Kirkoswald Curling Club. She also sponsored the 'Grannies' competition until she retired from the Baby's Castle.
Betty is retiring from curling this summer and will be much missed, both on and off the ice.
Sincere thanks must finally go to John McWhirter and Colin Naismith who, between them, organise this very successful competition for silver curlers.
We meet on a Tuesday afternoon throughout the season and if you are interested in joining us, please contact Colin on
Back to news <