The Finnie Kettle
22 November 2021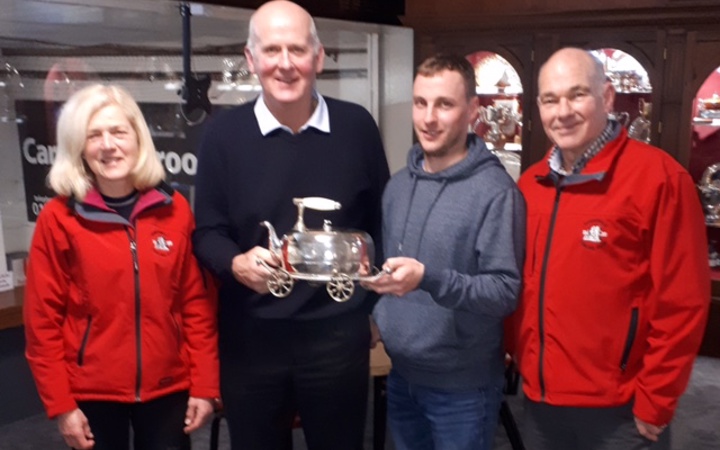 The Finnie Kettle is one of Ayrshire's oldest curling trophies. It was presented to Dundonald Curling Club in 1869 by Margaret Monteith Guthrie, wife of Archibald Finnie, Coalmaster and Provost of Kilmarnock. This year's competition took place on the 18th November.

The inscription on the trophy reads -
"Presented by Mrs Finnie of Newfield to be played for annually by the curlers of the fourteen nearest parishes, seven of north and seven of south Ayrshire. One rink from each parish".

The original clubs were Kilmarnock, Fenwick, Kilmaurs, Stewarton, Kilwinning, Irvine and Dreghorn representing the north and, for the south, Symington, Craigie, Riccarton, Galston, Tarbolton, Monkton and Dundonald.

The rules were all set out back in 1869 although the requirement to play 21 ends was rescinded in 1939 when the competition moved inside to the then new ice rink in Ayr.

Over the years the participating clubs have evolved and this year the clubs taking part were Kilmaurs, Stewarton, Riccarton, Ardrossan and Dalry for the north plus a "scratch" rink hastily cobbled together the night before the competition when Dreghorn & Springside had to withdraw as a result of two players testing positive for Covid.

Looking back the records, a "scratch" rink to make up the numbers was not uncommon and the ability for Dundonald to enter a "scratch" rink for this very purpose was provided for by the insertion of an additional rule in 1897.

The clubs representing the south this year were Tarbolton, Troon Portland, Crosshill, Symington, Galston and Dundonald. You will maybe note that Riccarton has migrated from south to north over the years but that is as a result of them now representing Kilmarnock, not some rejigging of boundaries !

All six games were keenly contested with the south claiming victory by 45 shots to 37. The highest up rink in the south was Symington skipped by Gemmill Jack with Colin Forrest, Graham Plews and Linda Williams.

It was particularly appropriate that Symington won this year as Colin's father, the much missed Allan, had skipped the successful Symington rink along with Linda and Graham in 2019 when the competition was last played before Covid intervened.

It was great to see a competition taking all six sheets of ice and near enough a full house afterwards for Lorrie's excellent catering and enjoying good craic.
Thanks to Andrew Kerr for the above most interesting report
Back to news <