Galbraith Bonspiel and Lottery Draw
28 November 2022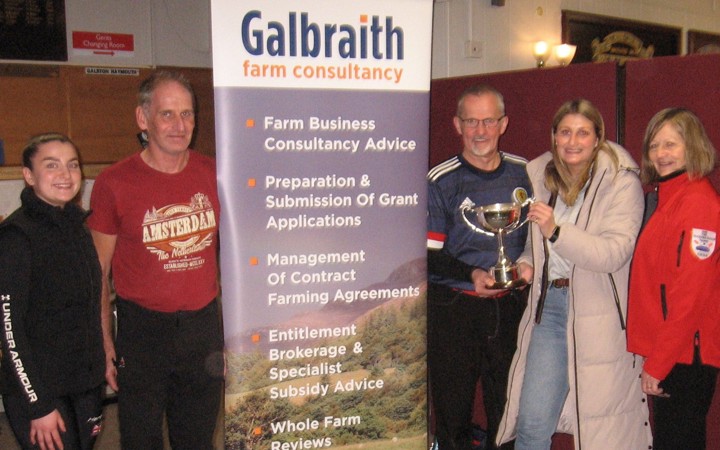 Yesterday was our second Sunday Bonspiel of the season (The Galbraith Bonspiel), and an excellent day was had by all. After 3 x 4 end games, the winning rink was skipped by Alistair Henry, 2nd placed rink skipped by Gavin Morton and 3rd placed rink skipped by Bert Andrew.
It was a real pleasure to see all six sheets of ice in use throughout the day and thanks must once again go to Logie Collins & his team for their efforts in making this possible.
As always, thanks are due to many people for making the day a success. We would wish to thank our sponsors The Galbraith Group, for their continuing generosity & to Alice Wilson in particular for coming along to present the prizes. As is their habit, Lorrie & his staff worked tirelessly to provide a wide range of appetising snacks, light meals and carvery throughout the day, the bar was managed very ably by Amy & her team and, as always, thanks to our ice staff who ensured that we had very good ice for each session. In addition our thanks go to Rachel Ireland who very effectively managed all of the bonspiel scoring for the day.
The Lottery Draw was drawn and the list of winning numbers is attached.
 Ayr Curling Club – Lottery Draw Season 2022/23 

 2nd Draw – Sunday 27 November 2022 (The Galbraith Bonspiel)

Prize

Winning number

Name

1st £100

140

Ronnie Peat

2nd £50

65

John Johnston

3rd £30

42

Derek Gilbertson

4th £20

130

Jim Murdoch

5th £10

5

Tom Andrews

6th £10

4

Bert Andrew

7th £10

166

Archie Stobbs

8th £10

187

Jenny Bloomfield
We would ask that winners collect the envelope containing their winnings from the office Monday - Thursday, 09.30 - 1.30 or from the bar during usual opening hours in the evenings/weekends.  We would ask that all winning envelopes are collected as soon as is possible and advise that any uncollected envelopes will be returned to club funds if not collected by the end of the season.
Of course you all know that there's usually another Bonspiel on the horizon, and our next one is our annual New Year Bonspiel (sponsored by Dalcon) on Monday 2nd January 2023.  Entries for this will be both Team Entry & Individual Entry; keep your eyes peeled for the entry form when it's posted on the notice board.
As always our greatest thanks must go to all our curlers who came along & played and made the day so successful.
Kindest Regards
Ken Ireland & Alison Young
Back to news <