Superleague Week 3
13 October 2018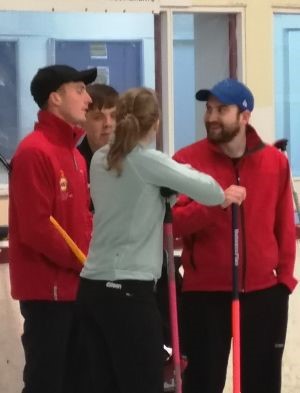 Round 3 saw tight games across the board with one exception, that being on sheet 1 where Bobby Ireland's unbeaten run came to an abrupt end at the hands of Ian Alexander's rink skipped this week by Mark Pieroni. After having been "rested" last week, Ian threatened to spit out the dummy if he wasn't restored to the team and his return looked to be justified as Team Alexander were 4 up after 3 ends. Bobby picked up a 2 in the 4th but that was to be their only score with Mark romping home 9-2. A spokesman for Team Alexander (OK, Ian !) was quoted as saying that "the super swingy ice suited our team better" - obviously !

On sheet 2 Gail Thomson's all girls team were out to make sure that their losing run was not going to continue against Billy Howat's rink. Singles were traded in the first 4 ends until Billy picked up a two in the 5th. Gail came back with a single in the 6th and so, into the last end, Billy one up and with the hammer keeping the head clear. A couple of not quite perfect take outs saw two stones left out front when Gail came to play her first stone. She didn't get it behind a guard and Billy duly removed it but his shot ran behind the guard out on the wing which left Gail with the option of repeating her first shot and drawing behind the other guard which she did. This left Billy with a dead draw which was slightly heavy so Gail stole a one to tie the game at 4 all.

Another tight game on sheet 3 between David Mundell and George McNaughton saw David 3-1 and 4-2 up  but George, forever on his tail, then picking up a two in the 6th to tie at 4 all. David however, had the hammer in the last end and picked up a two to win 6-4.  For some reason this sheet seemed to be cursed by a number of pick ups.

On sheet 4 it was Rab Clark against Liam Scott's rink skipped by Sean Rennie recently back from his trip to the States. This game looked to have turned on the 4th end when Sean took a four to go into the lead 6-4. The 5th was blanked but Rab came back with a three in the 6th and followed up with a steal of one in the 7th to win 8-6.

Superleague new boys Team Hope without David Hope and with James Dykes in the head were up against it on sheet 5. Dougie Paton's Stewarton boys were 4-0 up before James got on the board with a single in the 4th. Another single for Dougie in the 5th stretched his lead and it looked all over for Team Hope. However, the proverbial game of two halves saw James fight back to finally go down 4-5.

Sheet 6 saw Billy Morton bring back his Mixed Worlds team mate Grant Hardie who was clearly needing some ice time before heading off to Canada as third in Team Mouat ! They were up against Neil Kennedy skipping Team Sands. 2 all after three ends and 5 all after seven. This game also managed eight ends and it was Billy who managed to steal a single and win 6-5.

The Superleague now makes way for the Eglinton Jug next week but will return on the 25th.
The League Table is here.
Back to news <