Ayr V Falkirk Home
Wednesday 30th Oct 2019
12noon
On 30th October Ayr Ladies played Falkirk Ladies at Home in a very enjoyable match. Ayr were the winners by 23 shots to 9. Jennifer Mutter skipped a team of Mara Lindsay, Alison Young and Jane Hepburn. They won 15 - 0
Moira Drummond had a closer game losing 8 -9 to Falkirk with both teams managing to score a big end each. Moira's team consisted of Carol Simpson, Corrie Lawrence and Mhairi Manson.
After the game all teams enjoyed the hospitality and Corrie Lawrence, Captain for the day, accepted the Silver Salver Trophy on behalf of Ayr Ladies.
Ayr V Glasgow Wednesday Home
13th Nov 2019
12noon
On Wednesday 13th November at Ayr ice Rink, Ayr Ladies had a very close and friendly match against Glasgow Ladies.
Jennifer Mutter, Aileen McCorkell, Isla Robison and May Steel lost  4 – 7  to Glasgow.
Mara Lindsay, Alison Young, Janice Sutherland and Mhairi Manson won 7 – 4
With shots at 11 – 11 Glasgow retained the trophy having won it last year.
Aileen McCorkell ( Captain )
Beresford Ladies V Ayr
Tuesday 11th February 2020
With hail and wind outside we were pleased to enjoy being indoors and playing a very friendly match between Ayr Ladies and Beresford.
Beresford were our hosts and looked after us well.
They were on great form and won the match 2 matches to 0 and by 24 shots to 6
Stranraer V Ayr (Mary Henry Basket) Away
Tuesday 3rd March
4 teams travelled to Stranraer to compete for the Mary Henry Basket.
As ever, we enjoyed great hospitality from the Stranraer Ladies and an enjoyable day was had by all. The ice was, at times challenging and the day ended in a draw. Unfortunately for Ayr Stranraer had 18 ends and Ayr had 14 so the lovely Mary Henry Basket will be residing at Stranraer for the next year.
Thank you to all the teams for taking part and especially to the 4 drivers.
Irvine Ladies V Ayr
Wednesday 11th March 2020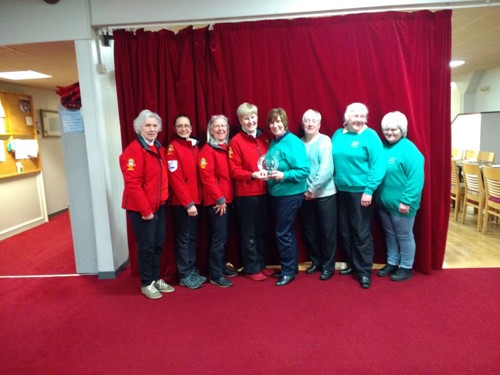 Ayr Ladies had a very enjoyable and friendly game against Irvine Ladies on Wednesday 11th March. The result was 4 - 4 which everyone decided was the best of outcomes. Ayr retain the trophy as they were last year's winners.