Watson Trophy
Last updated: 07/10/22 17:20
The Watson Trophy was presented to Ayr Curling Club by Mrs Sheila Watson.
This competition was originally for ladies aged 50+. However we are not averse to welcoming lady curlers of all ages.
We take individual entries and the competition is in Schenkel form lasting usually from 9 30am till 3 30pm with coffee and lunch between rounds of games.
The Competition is sponsored by Lady Par, Troon and Mrs Sheila Watson kindly provides scones for coffee time at the end of the first session.
Season 2021-22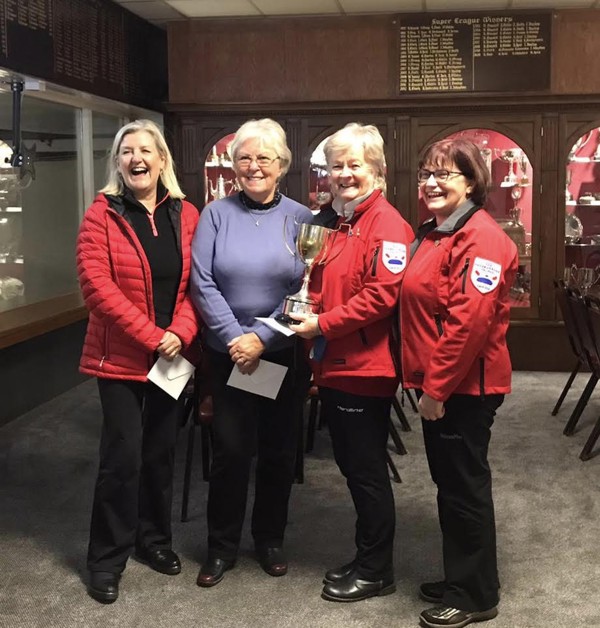 The winners by one shot over team McCorkell were Corrie Larence (skip), Elizabeth Shaw, Margaret Morrison and Helen Steel.
A good fun day with great camaraderie and good chat! 
Thank you President Aileen and her committee for organising.
Season 2019-20
Sponsored by Lady Par, Troon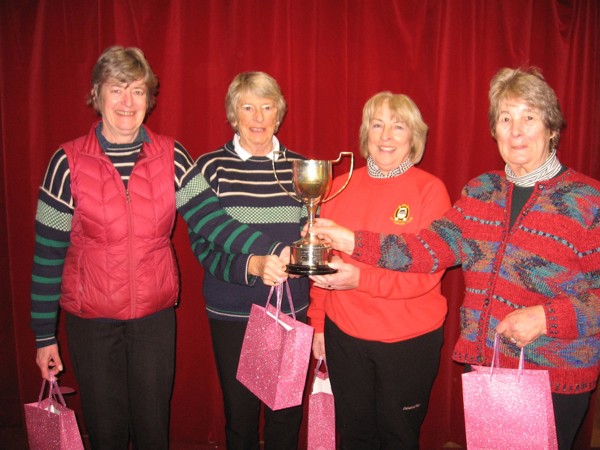 Eight rinks competed for the Watson Trophy which was presented by Past President of Ayr Curling Club Mrs Sheila Watson in 1983.
Winner was Skip Bella Kennedy, Liz Goldie, Lillian McIntyre and Linda Stewart.
Second place was Skip Corrie Lawrence, Alison Young, Janice Sutherland and Sandra Taylor.
At the morning break everyone enjoyed scones and coffee courtesy of Mrs Watson.
Sponsorship was  by Lady Par, Troon.
Photo  L/R :  Skip Bella, Liz, Lillian and Linda