Alloway Rosebowl
Last updated: 15/08/22 15:42
This is a team competition for Lady Curlers Rink Entry.
It is held over 4 or 5 games depending on the number of team entries.
Again depending on the number of teams it will either be a Section Competition with knock out semi finals and finals or a Round Robin competition.
The finalists compete for the Alloway Rosebowl and the runners up/Low Road winners win the Helen Morton Stone.
This season the first games are to be held on Tuesday 5th October at 9 30am 2021.
Subsequent dates for the competition are Tuesday 26th October, Tuesday 9th November, Tuesday 23rd November and Tuesday 14th December being the possible final day. All commence at 9 30am
All games will be played under RCCC Rules ------- Points, ends, shots up, shots scored
The Alloway Rosebowl will be sponsored by The Herbary, Troon
This year we will  try to run the same teams as  last year. Could skips please confirm as soon as possible that they wish to enter again and any other teams please enter by Wednesday 29th September to aileenmccorkell@gmail.com or onto the noticeboard outside the Ladies cloakroom or to the Ice Rink Office.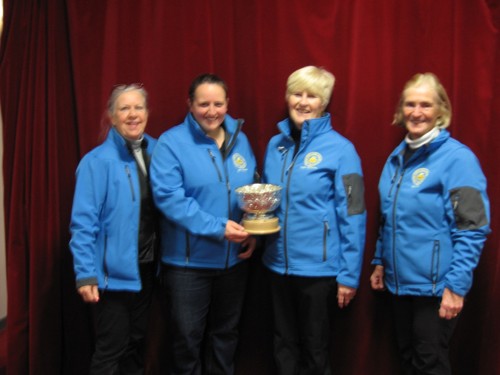 The Alloway Rosebowl (Sponsored by The Coo Shed and Corton Plants) was won last year by Aileen McCorkell and her team of Lisa Mason, Alison Young and Fiona Bain.  Runners up were Jennifer Mutter, Gillian MacDonald, Sandra Carruthers and Linda Williams.
                                                       ALLOWAY ROSEBOWL
SEASON 2021/22
Alloway Rosebowl 2021/22
Results as at 26/10/2021
| | | | | |
| --- | --- | --- | --- | --- |
| Section 1 |   |   |   |   |
| Team | Played | Points | Ends | Shots Up |
| Lorna Munro | 1 | 2 | 4 | +2 |
| Aileen McCorkell | 2 | 0 | 4 | -12 |
| Moira Drummond |  1  | 2  | 7  | +10  |
|   |   |   |   |   |
| | | | | |
| --- | --- | --- | --- | --- |
| Section 2 |   |   |   |   |
| Team | Played | Points | Ends | Shots Up |
| Carol Simpson |   |   |   |   |
| Mara Lindsay | 1 | 0 | 4  | -3  |
| Jennifer Mutter |  1  | 2  | 4  | +3 |
|   |   |   |   |   |
Section 1                                                                     Section 2
  A. Lorna Munro                                                         D Carol Simpson
  B. Aileen McCorkell                                                 E.  Mara Lindsay
  C. Moira Drummond                                                F.  Jennifer Mutter
05/10/21  ( 9.30am ) 
A v B            D v E      
26/10/21  ( 9.30am )  
B v C            E v F
09/11/21  ( 9 30am )
D v F             A v C
23/ 11 /21
No game at the moment
FINAL 14/12/12                                                 
Winner of Section 1________________________________
 V                                                                                
Winner of Section 2________________________________
HELEN MORTON TROPHY
Runner Up of Section 1______________________________
V                                                                                 
Runner Up of Section 2______________________________
                                          All games will be played under RCCC rules
Points, ends, shots up, shots scored