Super League gets under way
21 September 2018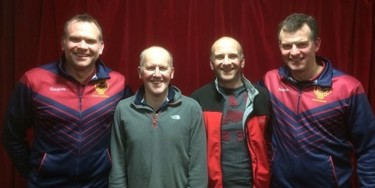 Last night saw the first round of games in this season's Superleague competition and, as usual, most of the games were tight affairs.

On sheet 1 Superleague newcomer's Team Hope skipped by Jim Boswell with Charlie Steele, David Hope and Fiona McInnes got off to a great start defeating Billy Morton's rink 5-4.

On sheet 2, Neil Sand's rink had a mountain to climb before the game started being a man short and with a 4 shot penalty going down 6-11 to Bobby Ireland's rink.

Next up on sheet 3, the girls' rink skipped by Gail Thomson were 4 down after 4 ends against Dougie Paton's strong Stewarton four but dug in with a couple of twos before succumbing 4-5.

The veterans on sheet 4 of Team Ian Alexander skipped by Allan Forrest had a hard time living with the young guns of Team Liam Scott skipped by Shaun Rennie. Just as well the old boys got a 1 in the first end ! 10-1 the score in favour of Team Scott.

A tight game on sheet 5 between Billy Howat and Davie Mundell saw the game tied at 3 all after 6 ends with Davie Mundell getting his 1 in the 7th to win 4-3.

An off night for Rab Clark's rink on sheet 6 or maybe just George McNaughton's rink on fire but a 3 for George in the 6th end and a 2 in the 7th saw Team McNaughton home 7-3.

So, the Superleague is up and running once more. Many thanks to the sponsors, Rural Finance, Hillhouse Quarry, Mair Transport and the Board of Ayrshire Curlers. Well done to the first round winners and for the losers last night, it's onwards and upwards !
Next game is 4 Oct 7.15pm
Back to news <